Gold Sponsor 
---

(STI) Innsbruck, formerly known as DERI Innsbruck, was founded by Univ.-Prof. Dr. Dieter Fensel in 2002 and has developed into a challenging and dynamic research institute. STI Innsbruck collaborates with an international network of institutes in Asia, Europe and the USA, as well as with a number of global industrial partners.
STI Innsbruck is a founding member of STI International, a collaborative association of leading European and world wide initiatives, ensuring the success and sustainability of semantic technology development. STI Innsbruck utilizes this network, as well as contributing to it, in order to increase the impact of the research conducted within the institute. For more details on Semantics, check this interview with Frank Van Harmelen:  "Search and you will find".
Silver Sponsor
---

PoolParty is a semantic technology platform provided by the Semantic Web Company, a pioneer in the semantic web since 2001. The product is recognized by industry leaders as one of the most advanced semantic middleware on the global market. PoolParty supports enterprise needs in information management, metadata management, cognitive computing, data analytics and content excellence. Typical PoolParty users such as taxonomists, subject matter experts, and data scientists can easily build and enhance knowledge graphs without coding skills. Boehringer, Credit Suisse, Roche and The World Bank are among many clients benefiting from transforming data into expert or customer insights with PoolParty.
Bronze Sponsor
---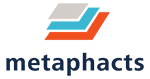 Metaphacts is a Germany-based company offering products, solutions and services for describing, interchanging and querying graph data, as well as a user-oriented open platform for visualizing and interacting with knowledge graphs.
The metaphacts team offers an unmatched experience and know-how around enterprise knowledge graphs for application areas such as business, finance, life science, and cultural heritage. The metaphactory is our end-to-end platform to create and utilize enterprise knowledge graphs - from semantic graph data management to data-driven application development. Our platform enables knowledge workers to create and gain meaningful insight into their data with one comprehensive software solution.