Gold Sponsor
---

The Bosch Group is a leading global supplier of technology and services. It employs roughly 402,000 associates worldwide (as of December 31, 2017). The company generated sales of 78.1 billion euros in 2017. Its operations are divided into four business sectors: Mobility Solutions, Industrial Technology, Consumer Goods, and Energy and Building Technology.
The Bosch Group comprises Robert Bosch GmbH and its roughly 440 subsidiaries and regional companies in some 50 countries. Including sales and service partners, Bosch's global manufacturing and sales network covers nearly every country in the world. In 2017, the Bosch Group had approximately 62,500 R&D associates. Over the past five years, Bosch has invested more than 30 billion Euros in research and development.
As a leading IoT company, Bosch offers innovative solutions for smart homes, smart cities, connected mobility, and connected manufacturing. It uses its expertise in sensor technology, software, and services, as well as its own IoT cloud, to offer its customers connected, cross-domain solutions from a single source. The Bosch Group's strategic objective is to deliver innovations for a connected life. Bosch improves quality of life worldwide with products and services that are innovative and spark enthusiasm. In short, Bosch creates technology that is "Invented for life."

Springer is a global publishing company that publishes books, e-books and peer-reviewed journals in science, humanities, technical and medical (STM) publishing. Springer also hosts a number of scientific databases, including SpringerLink, Springer Protocols, and SpringerImages.
Book publications include major reference works, textbooks, monographs and book series; more than 168,000 titles are available as e-books in 24 subject collections. Springer has major offices in Berlin, Heidelberg, Dordrecht, and New York City.

(STI) Innsbruck, formerly known as DERI Innsbruck, was founded by Univ.-Prof. Dr. Dieter Fensel in 2002 and has developed into a challenging and dynamic research institute. STI Innsbruck collaborates with an international network of institutes in Asia, Europe and the USA, as well as with a number of global industrial partners.
STI Innsbruck is a founding member of STI International, a collaborative association of leading European and world wide initiatives, ensuring the success and sustainability of semantic technology development. STI Innsbruck utilizes this network, as well as contributing to it, in order to increase the impact of the research conducted within the institute. For more details on Semantics, check this interview with Frank Van Harmelen:  "Search and you will find".
Silver Sponsor
---

For over two decades Ontotext has brought together knowledge, data and analytics transforming how organizations identify meaning across diverse databases and massive amounts of unstructured data. Ontotext makes tailor-made solutions across multiple sectors: media and publishing, life sciences, government and cultural heritage, financial services and more. Their client list includes news and media agencies like the BBC and Financial Times, top Academic publishers like Elsevier, Springer Nature and Wiley, leading pharmacological companies such as AstraZeneca, public institutions including the UK Parliament, Kadastr.NL and US Department of Defense, and cultural institutions like the British Museum, The National Gallery of USA and Getty Trust.

PoolParty is a semantic technology platform provided by the Semantic Web Company, a pioneer in the semantic web since 2001. The product is recognized by industry leaders as one of the most advanced semantic middleware on the global market. PoolParty supports enterprise needs in information management, metadata management, cognitive computing, data analytics and content excellence. Typical PoolParty users such as taxonomists, subject matter experts, and data scientists can easily build and enhance knowledge graphs without coding skills. Boehringer, Credit Suisse, Roche and The World Bank are among many clients benefiting from transforming data into expert or customer insights with PoolParty.
Bronze Sponsor
---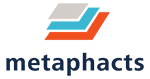 Metaphacts is a Germany-based company offering products, solutions and services for describing, interchanging and querying graph data, as well as a user-oriented open platform for visualizing and interacting with knowledge graphs.
The metaphacts team offers an unmatched experience and know-how around enterprise knowledge graphs for application areas such as business, finance, life science, and cultural heritage. The metaphactory is our end-to-end platform to create and utilize enterprise knowledge graphs - from semantic graph data management to data-driven application development. Our platform enables knowledge workers to create and gain meaningful insight into their data with one comprehensive software solution.